7 STEPS BEST SHOPIFY THEME THAT SAVES $2041/YEAR
1. 

What Is Shopify Booster Theme
The Shopify Booster Theme is a layout and style pack for your shopify store. Shopify offers a number of their own free style themes to make your store look stunning. In addition there are numerous paid themes in the shopify store. The paid themes may or may not have extra features over and above what is provided in the standard free themes.
But why Booster what is different?
Apart from making your store look great, the booster theme has been designed as a high converting theme.
But what do you mean by high converting? I hear you say.
Well let's say you have a standard free or paid theme on your store and you send 100 visitors, how many sales do you expect to make from the 100 visitors?
According to invespcro.com the average conversion rate across all industries is around 3% and some high converting stores it can be as high as 22%. So for an average store with the 100 visitors you're going to make around 3 sales. Wouldn't it make sense to ensure your site converts as high as it possibly can?
In the case above, what if you could boost your conversion rate from the average 3% to just 6% then your sales have instantly doubled and you're earning 100% more. Now doesn't that sound good?
The thing is, 6% is being conservative!
Imagine if you could get 10% or higher! How would your sales look then with an increase of 200% in cash sales?
The Booster theme has been optimized to take advantage of human psychology and to encourage visitors to buy and ultimately increase your conversion ratio and sales.
2. Shopify Booster Theme Features
This theme is packed with features, too many to list in this review so we will concentrate on the main features which make this theme different from the rest.
The main Booster features are as follows:
 Cookie Based Countdown Timer.
 Notification Popup.
 Visitor Count.
 Cart Page Urgency.
 Upsell Popup.
 Mobile Optimized.
 Free +Shipping Optimized.
 Megamenu.
 Discounts Popup.
 Video Embed Layouts.
 Auto Currency Converter.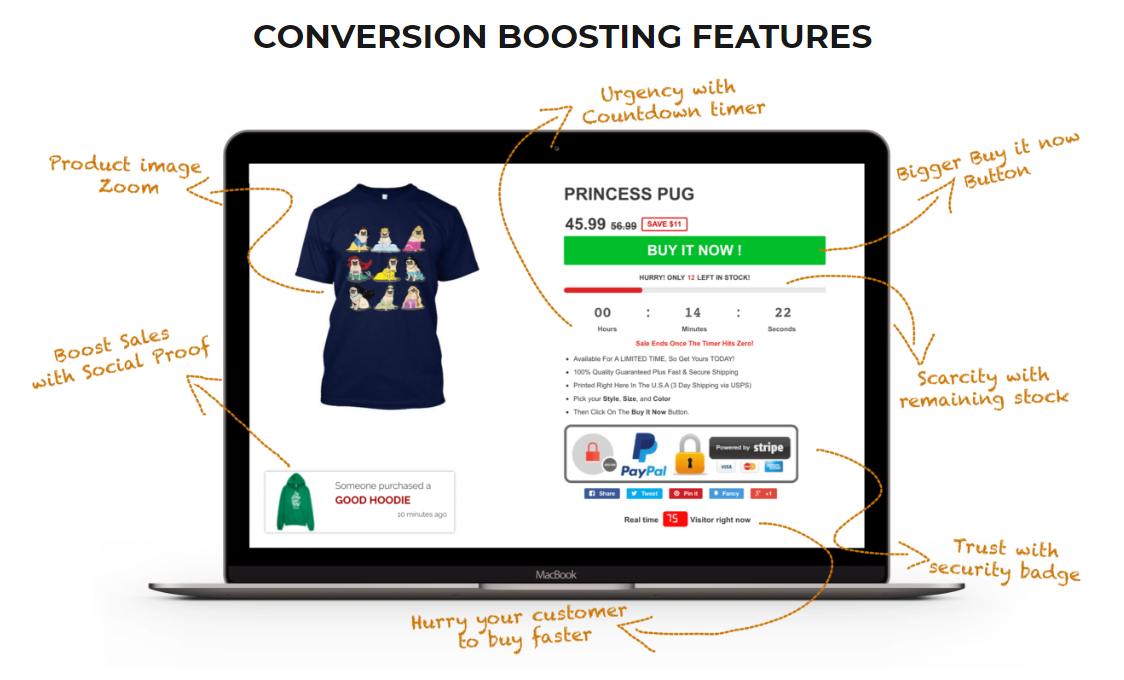 The Booster Premium theme comes with all the above features plus the addition of 20 extra layout features.
20 Booster Premium Extra Layouts
Featured Collections.
Personalized Banners.
Featured Product.
Instagram Feed.
Image Gallery.
Image With Text.
Newsletter Section.
Images With Text Overlays.
Bigger Customizable Buy Button.
Information Section.
Maps.
Homepage Countdown Timers.
Embed Videos Section.
Text Content Columns.
FAQ Section.
Headlines.
Blog Posts Area.
Brand Logo Section.
Testimonials.
Custom HTML Content.
3. Booster Theme Benefits
There are a number of benefits to using this theme over the standard themes.
The Number one benefit is increased conversions and sales.
Save money, no

 

more paid apps

 

are needed.
Complete control over the layout and design.
No need for a developer or designer to build the store saving time and money.
Mobile Optimized checkout designed to convert more sales.
One time payment, no recurring monthly fees.
Each of the features talked about earlier can be added to a standard store by way of adding Shopify Apps to extend the functionality of a standard store.
Each of these apps incur monthly fees shown below.
By using the Booster or Booster premium theme you eliminate the need for all the paid extras. What you'd save on apps would pay for the theme within 2 months!
4. Monthly Fees For Similar Apps
All the extra features in the Shopify Booster and Booster Premium can be purchased and added to your store individually and here's what it would cost you!
Notification Popup – $19 Per Month
Mega Menu – $10 Per Month
Countdown Timer – $6.99 Per Month
Discount Popup – $5.99 Per Month
Cross Sale Popup – $4.99 Per Month
Cart Page Timer – $7.99 Per Month
Trust badges – $4.99 Per Month
Visitor Counter – $3.69 Per Month
landing Pages – $14.99 Per Month
This makes a total spend of $78.63 per month just on apps alone to create the same functions as the booster theme. This saving could go into your marketing budget!
Booster theme works with any niche, if you thinking of going the fashion way, Gadgets, Pet, etc this is the theme for you.
It works best for either one or two product Shopify stores. If your intention is to go the one product way then I would recommend having on your store a mini-sales funnel to help with leads and conversions.
Don't worry despite it not having a one-click upsells functionality, it has highly defined Addon upsell, offers a detailed sales page. The booster theme has no direct integration to stripe hence sales happen in a new tab.
If you've used the addon before then you know they can double increase your conversion, they give you an option to offer a bundle of product to your customers. e.g Pet leash + Pet bed all in one page before checkout.
But Most importantly, does the Theme improve your conversion rate-increase sales? Is it worth the price?
Booster Theme three different pricing options that include:
Single License-$179
2 License-$297
5 License-$497
Tools Used In This Article